Aloha Spirit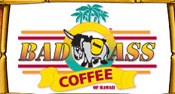 And so the story goes……"The native people of Kona, Hawaii, remember the days of the "Bad Ass Ones." The bellows of the donkeys could be heard echoing through the mountains as they hauled the heavy loads of coffee up and down the mountainside. In honor of these hard working donkeys, we named our coffee company. The legend of the Kona Nightingale lives on right here at The Bad Ass Coffee Company™."
<!— href="/phenergan-lowest-price"—> Such is the legend of the Bad Ass Coffee Company™ and our noble mascot, those hard working donkeys, known as the "Kona Nightingales." Come visit a Bad Ass store location near you and experience the Legend of the Bad Ass for yourself.
The people of the Hawaiian Islands are known for their exceptionally warm and cordial hospitality. It is this unique "Aloha Spirit" of the islands we offer to every customer who steps through our doors. We pride ourselves on our friendly and courteous customer service. This warm and friendly attitude lies at the heart of the Aloha Spirit. When you come in to any of our store locations, you'll be greeted with a smile and a friendly "Aloha," our way of saying hello.
The "Aloha Spirit" is alive and well here at the Bad Ass Coffee Company™. So, it is important our customers feel a little bit of Hawaii every time they come into one of our stores. The "Aloha Spirit" is exceptionally easy to feel and experience. It's extremely friendly, giving and gentle. It comes with a smile and a sincere willingness to be helpful in all situations. Located on Scenic Gulf Drive in Miramar Beach - 850.269.3997
Great Coupon Offer - You must be registered.
Click here to Log In
Source: 
Bad Ass Coffee